Haverfield road
Sheep Market (Kelly 1896)

'F' Company, 4th Territorial Force Battalion, Lincolnshire Regiment

There is a mention in The Times, Saturday October 25th 1890, of Lord Brownlow, Lord Lieutenant of Lincolnshire, formally opening a new drill-hall at Spalding. The Spalding and Gosberton Corps provided a guard of honour upon the occasion.

'The new Drill Hall for the 'F' Company, 4th Territorial Force Battalion of the Lincolnshire Regiment, in the Haverfield road, Spalding, was erected in 1913, and is a red brick building with stone facings, standing on ground, 119 by 76 feet; it consists of a large hall, 60 by 30 feet, rifle range 95 by 13 feet, lecture room 35 by 15 feet, armoury, orderly and other rooms.'

This drill hall has had various uses, including a hall for occasional dances, a GPO Sorting Office, a warehouse (1973), a book store, an office (1973), classrooms for Spalding Grammar School (1992) and currently (2008) in use as Spalding Grammar School Sixth Form study centre.

In 2007, planning permission was granted for the building to be converted into apartments. However, this proposal makes use of the building as it is and requires the developer to restore some of the original external features, such as removing the canopy over the door, replacing roof tiles with slates in keeping with the original and ensuring a common pattern of window frames.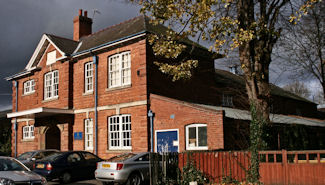 Haverfield road drill hall
Haverfield road drill hall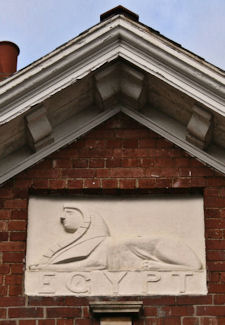 Lincolnshire Regiment Plaque to gable
Haverfield road drill hall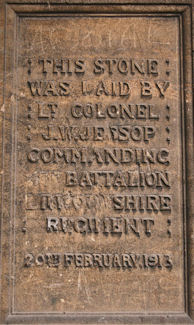 Foundation stone laid by Leutenant Colonel WJ Jessop
Lincolnshire Regiment
Haverfield road drill hall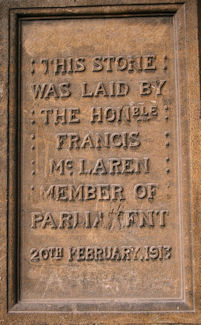 Foundation stone laid by hon Francis Mclaren MP
Haverfield road drill hall